z

Each week Mansion Global tackles an interior design topic with an elite group of designers from around the world who work on luxury properties. This week we look at how to best blend decor styles.
Maybe it's a Hollywood Regency-style mirror, or a set of bold-hued embroidered pillows from India that caught your eye. And what about those 18th-century portraits you inherited from your grandmother. How do you mix them all together?
Merging different décor styles in the same room can be refreshing—and even more interesting than sticking with the same theme throughout.
"Mixing different styles and periods of décor creates a richer and more dynamic space," said interior designer and architect Joan Craig, a partner in Chicago-based Lichten Craig.
"It's like bringing together guests from different places and generations for a dinner party. A Chinese screen may be a beautiful object by itself, but set it with a '40s chair and a contemporary table, and watch the room come alive," Ms. Craig said. "There's nothing like a shot of unpredictability to enliven a room."
View image on Twitter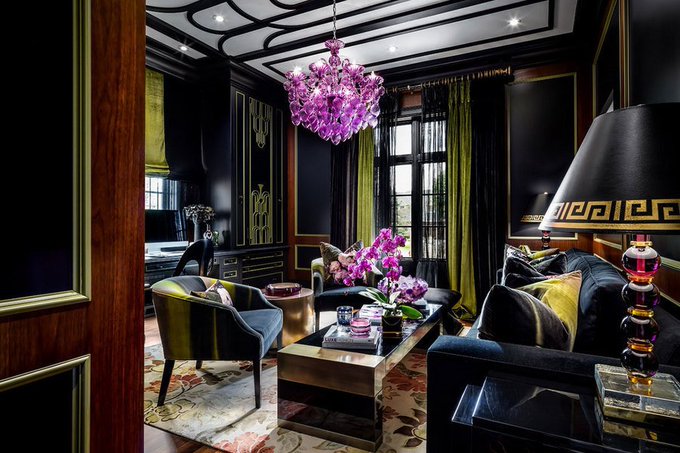 While there are few rules when it comes to eclectic décor, these tips from the design pros will help you curate your look with ease. Read on for all the inspo.
 Create some cohesion
"Color is always a great unifier. Limiting the palette and using different values of the same color fosters cohesion. It also helps for the pieces to have a similar level of formality. For instance, mixing a rustic Thebes stool with a French marquetry commode is a hard one to pull off. It's much easier to add that stool into a room with a casual mood and furniture. Proportion is critical as well. Have a comfortable scale relationship among pieces so that while the language, material, and detailing are different, the elements work comfortably together.
"It always helps to have a few pieces from the same moment in time. For instance, having a room that is largely mid-century with a single Victorian chair in it is a much harder look to achieve than if you freely mixed pieces from both styles and had more balance.
"Begin by studying the architecture and drawing a furniture plan … usually there's at least one key piece or idea that emerges to set the room's direction: whether it be an antique rug, a family heirloom, a long table that will accommodate the entire family, or a massive fireplace that demands comfortable seating around it."
["Source-timesofindia"]